Alright, let's just get two things out of the way.
1.  I love architecture.  More specifically old architecture.  Deal.
2.  We are not going to be talking about this dude's house: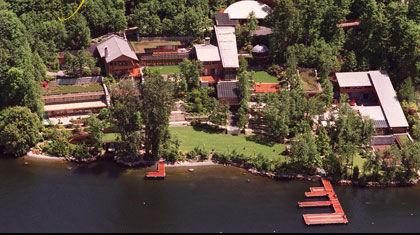 Moving on…
Historic Seattle
, has been purchasing and restoring old homes and buildings for awhile here in Seattle.  Unfortunately, they do the majority of their work over on Capitol Hill.  That is really the only other place that the majority of the founders of Seattle built their huge mansions.  
14th Street
over there is nicknamed Millionaire Road.
But guess what?!?!  I don't live over there!
Queen Anne Historical Society's
link
to their pictures of our grand homes is usually a good place to start.  If you head over there and look at the pictures you'll see that most of those specific houses were destroyed at some point (let's not dwell on SPU's tear down of one of the houses.  So dumb).
Their Historic Sites
tab
brings you to things that have been preserved (and or still standing in some form).
405 Highland, TwentyFifeFifty, 2010
618 Highland, QAHS file photo, 1979
Reginald Parson's Residence




Above houses, clockwise:  120 Prospect Street, 196 Prospect Street, 20 West Highland Drive, 522 West Highland Drive




So while you can see that my neighborhood has a lot of huge old houses, the majority of us who don't live on the South Slope live in totally normal sized houses (and I don't envy the South Slope people when it comes property tax time…some of them are gross…like 30k gross.  For property taxes.  One year of them).